You must give some time to your fellow men. Even if it's a little thing, do something for others -
something for which you get no pay but the privilege of doing it.
(Albert Schweitzer)
If you would like to support Heartkids there are various ways to do so. We appreciate your commitment in whatever form it may come.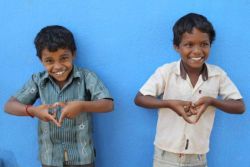 Since all our projects are being supported by private charity payments, we need your help! We are grateful for any money, single payments or standing orders.
IF YOU WANT TO SUPPORT our efforts, please transfer any amount of money
HEARTKIDS' ACCOUNT:
Heartkids e.V.
Account Number
79 23 501 200
BANK TRANSFER CODE 430 609 67
Bank: GLS Bank
If you are transferring money from abroad, please use the international bank account as following:
IBAN: DE38 4306 0967 7923 5012 00
BIC: GENODEM1GLS:
Donations via PAYPAL
(1.9% plus 0.35 Euro per remittance will be deducted from the donation for banking fees, with remittances from Non-European-countries the deduction will be 3.9% plus 0.35 Euro):